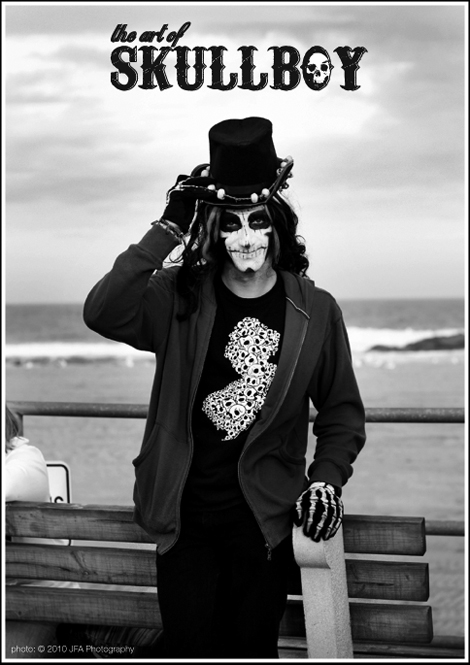 Who are you (you don't have to answer specifically) and what do you do? Age?
Most know me as "Skullboy," "Skubby," or "Skull." Ageless.
Why do you do what you do? I like creating and I like seeing people enjoy what I create. It's a 50/50 split. (HA! Killed two 90's surf/skate companies in one sentence). Currently I'm working on our new company, NJ Subculture, which features limited edition clothing, prints, art, etc…all done by NJ artists and designers.
How do you work? 24 hours a day, seven days a week. Eat, sleep, breathe what I do.

What's your background?
Daydreamer slacker artist turned aggressive daydreamer slacker artist. It's a game of tug of war in my head.
How did you come to your trademark design style of NJ skulls etc?
A lot of people think there's a hidden meaning to that design, but it's pretty straightforward and falls in line with my philosophy: you get out of it whatever it means to you. To me, it was just a really cool idea. I wanted to start making clothing that I would want to wear, and I've hardly worn any other clothing company's shirts since I started making mine, so you're talking 5-6 years of rocking the New Jersey skull shirt.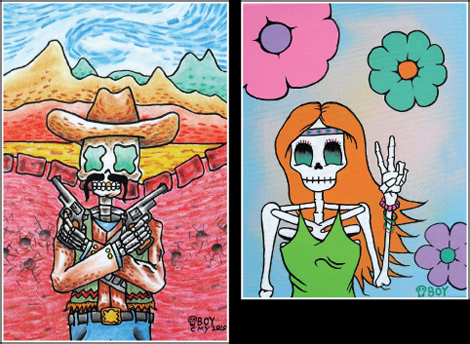 What's integral to your work or that of an artist?
Consistency, always putting out work or merchandise of the same quality. I notice when corners start to get cut with my ability to produce work, so I either correct it then and there or take a break from it and come back, whether it's a day or 6 months. I've taken long hiatuses before to focus on other things, I tend to spread myself thin. Too many ideas!!!
To you, what role does the artist have in society?
We can convey. Thoughts, emotions, expressions. Obviously the most direct form is music, it's easy to like or dislike a song, and most people know why and can explain it. Art's a little tougher, but I don't think someone has to dig too deep to get something out of my particular work. It's meant to be fun, even if the subject isn't always "happy." I like when people talk to me and tell me what a certain painting means to them, because that's a big part of what it's about for me: creating for the enjoyment of others.
Which artists or creators do you return to for a quick boost of inspiration?
Usually it's whoever I'm hanging out with. Lately it's been TJ Reddick, Doug Z, and my cousin Kirsten Stone. We're all producing and putting it out there, so it keeps me looking for outlets or different ways we can promote ourselves and be successful in what we do.

What artists would you put on your wall if there were no limits in acquiring it?
I love all of the stuff my friends have given me, but if I had no limits definitely Van Gogh, Edward Hopper, Da Vinci, Norman Rockwell, Jose Posada, and a Goya.
Do you skate? If so, how long often and where?
I'm into bombing hills these days (whenever I get time). It's funny because the language stays the same, the secret spots and all that. Instead of parking lots or municipal places, it's street names or certain developments where there are hills. Like Birch Bark is the only place in my neighborhood that you can top out at around 20 mph, which is fun once or twice. Good for beginners. Some kids the other day had glued Vinyl to garden gloves and were sliding down Birch Bark. They told me they drove across town to ride here, which I thought was cool; the downhill thing seems to be growing on the East Coast.
So many of your stickers are around, what other mediums are you going to dominate with your brand of art?
I'd like to put it on as many different mediums as possible without being tacky; like I don't know if I'd want to see my paintings in a 12 –month calendar, or on a coffee mug, but who knows! If it's done properly and up to my standards, I'll take it as far as it'll go. Currently I'm focusing on more clothing designs, hats, hoodies, and limited edition embroidered shirts.
Could there be a skate deck in your future?
Absolutely! I've been approached by a few companies about doing work (nothing set in stone), and I'm also considering having some done personally
Do you have a favorite or most inspirational place (in Jersey)?
I like taking roads I've never been down, seeing where they end up. NJ's so eclectic, there are so many cool things to find off the beaten path. That definitely inspires me. Favorite drive I like to do is drive out to the Highlands and take the coast back, especially at night.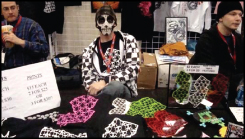 What's the best piece of advice you've been given?
Cliché as it sounds: Don't stop. Don't give up. Follow your dreams. Someone posted this the other day on Facebook. Her name is Christina Cho, she's aspiring to be a career actress: "Nothing in the world can take place of persistence. Talent will not; nothing is more common than unsuccessful men with talent. Genius will not; unrewarded genius is almost a proverb. Education will not; the world is full of educated derelicts. Persistence and determination alone are omnipotent." -- Calvin Coolidge. That hit me like a rock.
Professionally / artistically, what are your goals?
To ride this train as far as it'll go. There were plenty of times I thought about giving up and doing something else, but so many people would approach me and be like "Your paintings kick ass!" or "I see your stickers everywhere"; it keeps me going.
What wouldn't you do without?
My pets. Dr. Pepper. Nature.
Any thanks? All of my retailers: Pro Skate Shop, Atlantic Skate and Surf, Atomic, Hippie Chicks, Artist's Eye, OG Surf and Skate, Outta Control, 10th Ave Burrito, B Unique…So many people to list, pretty much everyone who has supported me and continues to support me or help me: my dad, my grandma, family, TJ Reddick, Danielle Dastis, Michelle Raventos, Signs By Raymond, Rob Taylor.