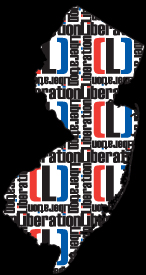 NJ Skateboard Company
with A Resounding Message
What is Liberation?
Liberation is a label in skateboarding that was built from the ground up by myself with the intentions of bringing a new wave movement through an original and strong image with the best of quality to skateboarding and urban life.
What products are your main focus?
We design, produce, and sell decks, grip tape, clothing, and accessories.
What makes or breaks a company is what it provides compared with others. How would you describe Liberation as being different from the competitors?
I'd say were unique because of what Liberation was situated to be after I've had years on me seeing industry changes -- being that I was, and still am, an active skater. I knew that I had to illustrate the company as a genuine brand that is contrasting in the main noticed in companies today, such as image and background.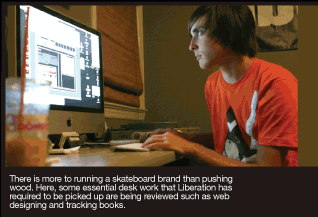 What sort of image do you want to appeal to your consumers and followers?
In the commerce of skateboarding today, people are exposed to both creative and fresh new material and the "me too" works that have already been done by others. With that, there is not as much space to stand out as there used to be, but I won't put down the idea of progression being that I'm an individual with the power to express my own views and opinions through my own revolution. In my head, it's important to be unconventional to what has been done already, but at the same time, recognizable in the proven successful methods of regulating a brand.
What's Liberation's background and why the name?
I've been put on an amazing trip thanks to skateboarding since day one. I would have on no account thought that I would have ended up where I'm at now years ago first pushing on a board, but as time went by and I advanced with a growing love for skateboarding, I knew that I would have to incorporate it into my everyday life whether I was on or off the board and the idea of Liberation sprouted from that. The name is easy to relate with when you have a passion for anything because being liberated is being free and that is unarguably consenting every time in skateboarding.
How has Liberation been doing?
Very well. As time went on from when I first started it in 2008, I managed to learn how to create graphics, a regularly updated website, www.liberationskate.com, get a solid team, videos and photos, and my product into several skate shops in New Jersey and New York.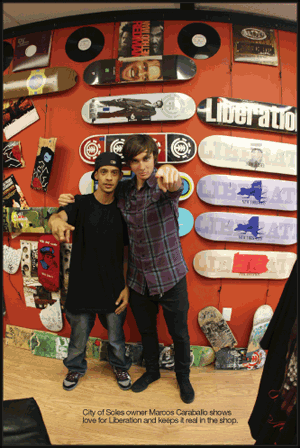 Which skate shops are you working with?
For New Jersey, Central Jersey Skate Shop in Edison, City Of Soles Skate Shop in Perth Amboy, Decked Skate Shop in Princeton, Holmes and Company in Jersey City, Standard Skate Shop in Woodbridge, and X Styles Skate Shop in Phillipsburg are backing me and CD Skate Shop and Reciprocal NYC are being a big help over in New York. All of the shops are open minded and understanding to what I'm trying to do and give great pointers and advice for me to use in the long run.
Who are your team riders?
The current Liberation team consists of myself, Jared Castellazzo, Mike Andonian, and Matt Rice. The team is very talented, super fun to skate with and be around, and set a positive reputation to the company.
What kind of things do you do with your team?
We've been going on a lot of filming missions as of late on the east coast all over, but we're focusing a lot on our home state of New Jersey to get it out there in the skateboarding world so that it can get it's deserved recognition. We're putting what we get towards our current film project, Liberate Yourself, which will feature full parts by the team and other montages involving friends and skateparks. Other than that, we try to be as involved as we can in the skateboarding community by participating in demos and events.
Nice. What kind of demos and events have you done so far?
We've done a lot with the time that we've been around believe it or not. Whatever it is we're looking to do, we make sure that everyone involved has a good time, which is how we were offered more opportunities to come out from time to time. We partner up with our shops to do events, such as Standard Skate Shop's "shred fests" or Central Jersey Skate Shop's backyard bbq jams and contests to name some from them and also several local beneficial foundations looking to incorporate skateboarding into their affairs, like the Graeme Preston Foundation for Life. Aside from attending happenings started by others, we also organize and execute our own events and invite our partners to them.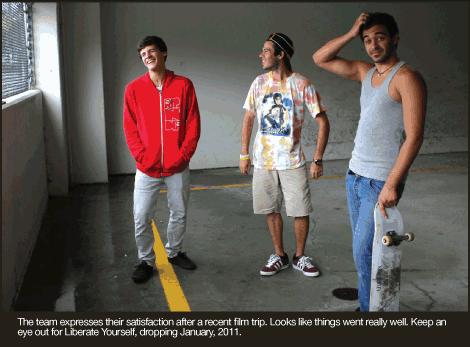 What's the best part of running your own business?
Having complete control of what goes on with Liberation is great because I can create my own path and decide what happens next, whether it be designing a new line or going into business with new people. The possibilities are proven ongoing with the right attitude and drive from what I've discovered and I'm going to stick to my ways.
What and/or who has influenced you to do what your doing with Liberation?
The things I'm subjected to and am into now have a lot to do with my inspiration towards the company, but at heart the soul of skateboarding is what does it, as it should for any brand in the business. It's not so much the glory of it to me as it is the humbleness of it.
From your POV where is skateboarding going?
Skateboarding is always changing. From the beginning of it to the present, new realizations are being made, keeping it going and going just when people thought it was going to see its day. I see it blowing up and gaining more respect as more good things are being done in it with shops, businesses, websites, and communities. At first glance, a skateboarder looks like someone out of place and a nuisance, but upon further examination, is discovered to be an artist making his or her own way and I think people who aren't skateboarders are starting to see that.
Any thanks you would like to give?
Probably too many to name. I'd like to thank my family, my friends, and all of the people involved with Liberation in the shops and streets. Your constant support and dedication is what is keeping it moving forward and I thank you all so much for showing love.
Any last words? Liberate yourself.