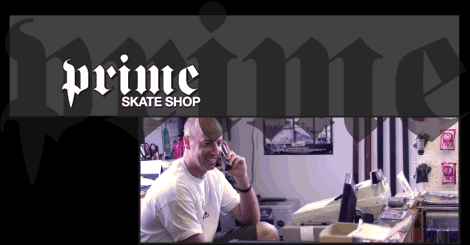 Shop Name & Founded: Prime Skate Shop, April 8th, 2006
Owners Names: Rich Petersen and Kevin Rochon "The Prime Ministaz"
Address and Phone:
430 US Highway 206, Hillsborough, NJ 08844
(908) 281-2200 • www.primeskateshop.com
Shop Hours:
Sunday - 12 to 4, Monday - Closed, Tuesday - 12 to 7, Wednesday - 3 to 7, Thursday thru Saturday - 12 to 7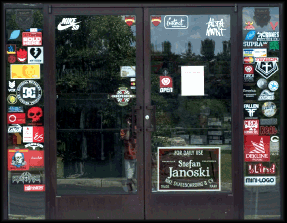 How's the shop doing?
We started off doing really good but then the economy got us right around the holidays of 2008 and it's been a struggle ever since. It's ok though, we're skateboarders so we'll get it figured out - how to make things work. But hopefully it gets better (for everyone) soon.
Who is your typical customer?
We get great local support from Hillsborough and all the surrounding towns. Our shop is 100% skate so it's skaters which is so sick and their families. People just like us only younger - ha.
Are there any skate parks near your shop?
Ann Van Middlesworth Park is a mile or two from the shop. It's an older park - half with wooden ramps and rough eroded asphalt that needs a lot of love. And a newer half with sealed blacktop and some DIY features (kind of like a foundation spot) that make it one of my favorite places to skate lately. Hopefully we can continue to get improvements made.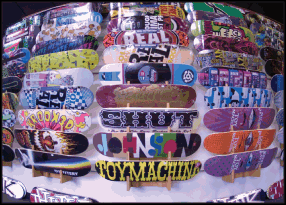 Who are your shop team riders?
We have a pretty big team cause we need a lot of help - rippers, filmers, photographers, artist, groms, crews like Manooga, SK8NKD, Killzborough, Franklin Homies and we love for em all. Here's some names though: Joe, Timmie, Josh, Tony, John, Aaron, Mike, Farmer, Lil John, Isaac, Swick, Alex, Brett, Dakota, Scuba Rob, Shmitty, Collin, Jesse, Miles, Chris Pompsie, Kyle, J Baby, Meaty, Nob, Marino, Randy, De' mon, Matt J., BJ, Dewy, Conner, Mikey, Joe B, Nick, Spooners, Jason, JameRson and Tyler.
What's the best part of running a skate shop?
Man, just that! We own a skate shop. You start skating and then the fantasizing begins - tricks, spots, sponsors, being pro, starting a company or opening a skate shop. It's one of dreams. Plus at home I don't have a garage, home office, man cave etc. - so this is kinda it.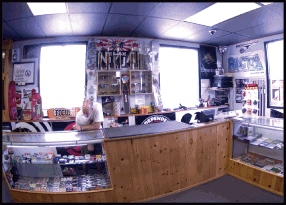 How does your shop offerings differ from the typical skate shop?
I'm not really sure. I think it's just different cause it's based on our flavor and comedy mixed with input from all the locals.
Any special events like video premiers, signings, or demos?
Whenever possible! It's tough to get love sometimes though. There are only so many tours and pros and there are a lot of good shops to hit up. Plus they're gonna want to run thru Philly and New York or maybe they have chain store obligations. But please come thru if possible cause we fan out just as much as the kids on stuff like this - our doors are always open and everyone is welcome.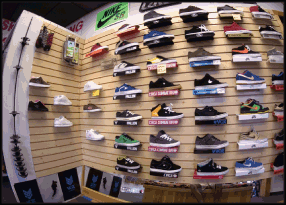 Love is tough to come by sometimes, do you have any future events coming up?
Nothing as of yet but we'll get some stuff poppin' (Jams, Games of S K A T E, high ollie) stuff like that. And hopefully a local video premier real soon too!
From your point of view, where's skateboarding going?
That's a tough question. I think the technical stuff will continue and get taken to bigger obstacles. And it seems like kids are trying to do things faster which is so sick. Definitely more skate type parks like plazas, safe spots - stuff like that.
Any thanks you would like to give?
Oh yeah definitely! Thank you to our customers, their families and our families. Everyone who supports our shop and supports skateboarding from companies to sales reps, pros and friends. We're just 2 dudes trying our best but without all of you there is no us and we truly appreciate that!