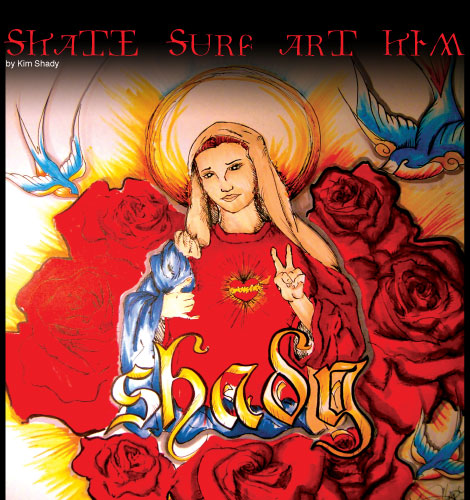 My name is Kim Shady, I'm 22 years old and I'm an artist who LOVES to surf and skate. Why do I do what I do? I started getting hooked on art in high school. I'm severely dyslexic, so I hated regular classes, but realized that in art I could make a ton of mistakes, and not only would I not get an F, but usually the mistakes made my work better.
Painting, drawing and photography came natural to me because there is no logical order of thinking involved. It's all about being in a free state of mind. It's the one thing other than surfing and skating the truly makes me happy and is something I feel very strong and confident about.
I do most of my work in my bedroom and my dad's garage. I'll start off by creating a playlist off my ipod to get my mind thinking and my hands moving and then stuff just starts happening.
I come from a family of 6. My parents put me and my siblings into anything we asked for whether it was sports, horse back riding (never again), art classes to music lessons—we pretty much did it all. I stuck to sports mostly until I went into high school and really found my love for art. I've been drawing and painting ever since. I do a lot of it just for myself—I spend entire days drawing characters and making up different scenes. Eventually friends started asking me to draw up tattoos for them and I think it was then that I realized that if someone wanted to get one of my pieces permanently etched onto their bodies, they would probably also buy a painting for their house. I think that's when it started to become more than just a hobby.
I attended Fashion Institute of Technology in NYC majoring in Visual Display and Design. In High school I had no idea what I wanted to do—I just knew that it was something in art. Visual Design and Display touched based on every subject that I wanted to take. My class was full of characters. Xina was from the deep south with a killer southern accent. We were working late into the night over this horrible project that was due the next day. I put my ipod on for time to pass and Eminem came on and I just remember rapping to the songs, so the whole night she kept calling me Kim Shady. The next day my professor lectured how you shouldn't have your real name on Facebook for business reasons. So as a joke I changed my account name to Kim Shady. The funny part was my class had students from Korea in my major, who would call you by your first and last name, They thought my last name was Shady so every time I would see them they would say "Hey Kim Shady." So it just stuck.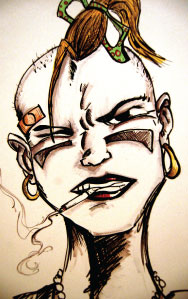 When I start a project I try to find the humor in the character or piece that I'm creating. I'll usually express it in color or the main character trait the piece has. If it isn't funny or interesting, why bother? I guess to keep other artist inspired. Help creating ideas, pushing others to go forward with their art work, put a smile on people's faces or to make people understand what kind of message they're trying to get across. Art is powerful. There are many things that you can take away from a piece of art, and so many different ways to see one thing. It's funny, people always ask me who's my favorite artist, I can't say I have a true favorite. I'm a big fan of Fernando Vicente and Jamie Hewlett. I have such a wide range of favorite styles of art it's hard to pick.
For a boost of Inspiration I usually do the following: 1) Turn on my ipod—without it I can't think, just the constant change of music puts me into work mode of how to create something; 2) I'm always looking up comic art whether it be the style or character and base a new idea off of that; 3) I love graffiti art and photography so if I see something that I like I'll write it down and make a web of ideas around it to crate something.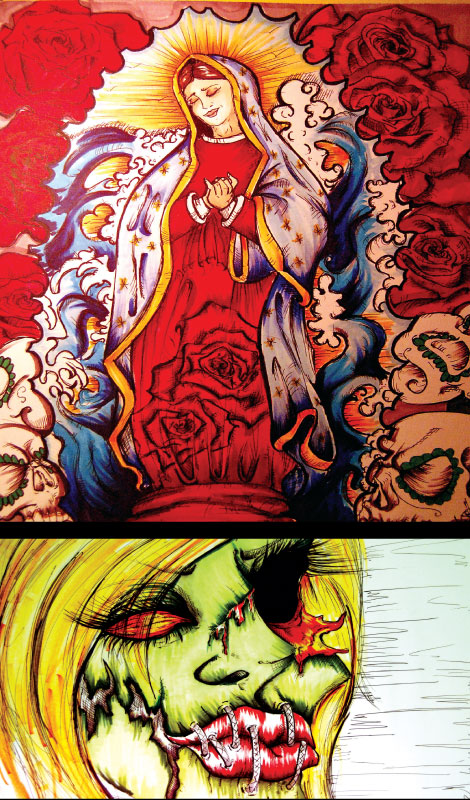 I would love to have Fernando Vicente and Jamie Hewlett on my wall. Fernando had this great way of capturing his characters with a humor style and use of color. As for Jamie I'm a big Tank Girl and Gorillaz fan. His illustrations have a very edgy style and he captures the characters.
I do skate. I was a Fruit Boot skater for the longest time, age 6-12. I know you're laughing but I really loved it and I was really good at it. My cousin got me into longboarding about the age 12 and I've been bombing hills ever since. Kearny is great for longboarding, my favorite hill to skate down is Stuyvesant. In high school I skated everyday with the boys from my classes. We would skate down to Harrison take the path train into JC and just find random stairs and empty rails while they would grind and I would shoot. I use to sub-teach at my old high school and I would have students come in and ask if I'm that blonde chick that skates on a longboard. They always laugh and when I say, "Yes, that me."
I've pretty much done it all in terms of medium. I work with a bit of everything now and then. I just got into airbrushing and I LOVE IT. My dream job is to custom paint Surfboard and Hotrods, maybe even skateboards. My friend just took a Graffiti class. I went to his opening and now I have to get into that. I use to only work with watercolors but I'm working with a lot of airbrushing and acrylic. I would like to get back into watercolor and pastels, just haven't had the time.
Banksy is unreal and truly an artist. I like how forward he is with his work and how he keeps things exciting with surprise and humor. That man is very slick.
I hope there's a skate deck in my future! That would be SICK! I have about 5 ideas in my head right now just thinking about it.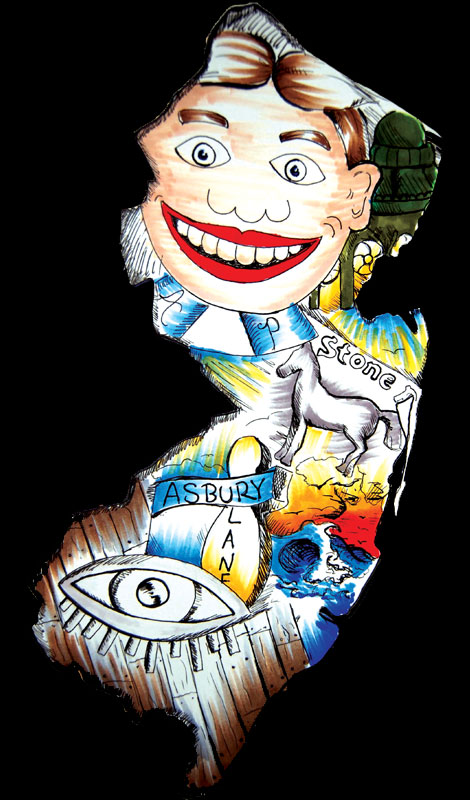 Most inspirational place in Jersey would be Avon. Growing up In Kearny I had a really hard time with schoolwork and friends. It sounds cheesy but Avon is my happy place. I have the best group of friends who are always inspiring me to make other creations in art and pushing me in surfing.
Best piece of advice? My parents are always giving me the best advice. My dad always makes me feel better when he says, "So what if you never graduate, as long as you get up every morning, work hard to do what you love, you can never fail."

My goals? As long as I can Surf/Skate and make a living in art I have reached my goal of success and happiness—and one day Graduate from FIT for my mom—just 3 credits short (I cant pass the math lol).
What wouldn't I do without? My surfboard, camera and ipod.
Thanks to: My Siblings Kelly, Kate and Kyle, THE AVON CREW, 1225 HOUSE APPARTMENT, Seven3two, Noel, 10th ave Burrito, Tj Reddick and SKULLBOY—you really made my year, thank you for all the help and support you have given me!
Mom & Dad thank you for giving me every opportunity in reaching my goals in art. Giving me the chance to experience everything and anything, never ever saying no, even if I did make a mess. I LOVE YOU ALL AND THANK YOU
SO MUCH!