Seven3two is small and local, but hardly unknown. We had a few questions for this local company that's been making a lotta noise lately, here's how the conversation went: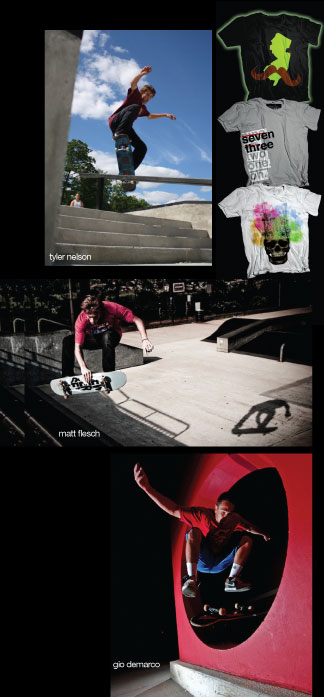 How, when, why did seven3two come about? We started our co. in the summer of 2010. I had just quit my job teaching, and really didn't want to work for anyone. My girlfriend Kerri, the other owner, always wanted to start designing shirts, so we thought why not?
Where do you find inspiration for your designs? We are heavily influenced on the skate/surf culture, art/music in all its purest forms, and we usually have help from a little green friend.
I know your brand's gaining ground, but how's seven3two doing in this economy?
Everyone is struggling in this economy. What's good for us is that we were never into this to make money. Seeing people rock our gear and getting stoked about new products is good enough for us.
Are there any skate parks near you? If so, do you sponsor any events etc? We are from Belmar, NJ. We have a skate park, but it is kinda bogan. We linked up with Kelsey from Liberation Skateboards and put on a demo, but that was pretty much it. The turnout was good, but it was more about spreading the word, not a legit contest. We tend to go to events that are being held by others; Philly Pro Am, Gatorade Pro AM, Shredfest in Woodbridge, etc...
Who are your team riders? Mark Humienik, Tyler Nelson, Gio DeMarco, and Matt Flesch
What does role does art play in your brand? Art really never played an important role when we started designing, until we met TJ Reddick. His has really been an inspiration for our co. His designs are so unique that every time we come up with an idea, we try and put a spin on it like he would.
Can anybody start a Tshirt company? So many have tried and end-up with boxes of Tshirts... Anyone can start a clothing co, but you have to be what you are selling. No one is going to buy a design from you if you are not submerged in the culture. Every one of us skates or is at least inspired by those who do skate.
What does seven3two offer that's different from other gear companies? We print everything in house and buy our products locally. We are big on that and will never change that.
Do you have any future events coming up? Nothing that we are planning, but our riders typically go to 2 events a month. We don't ever make them do events, they just find some usually a day before it kicks off and decide to go.
From your point of view where is skateboarding going? It's amazing where skaetboarding is at. These kids are so freakin talented and fearless. When I was young we were all about basic flip tricks, slides, and grinds. Now, you see kids sticking a 10 stair tre flip and it just blows my mind. I can't event imagine what kids are going to come up with next.
Any thanks you would like to give? NJ